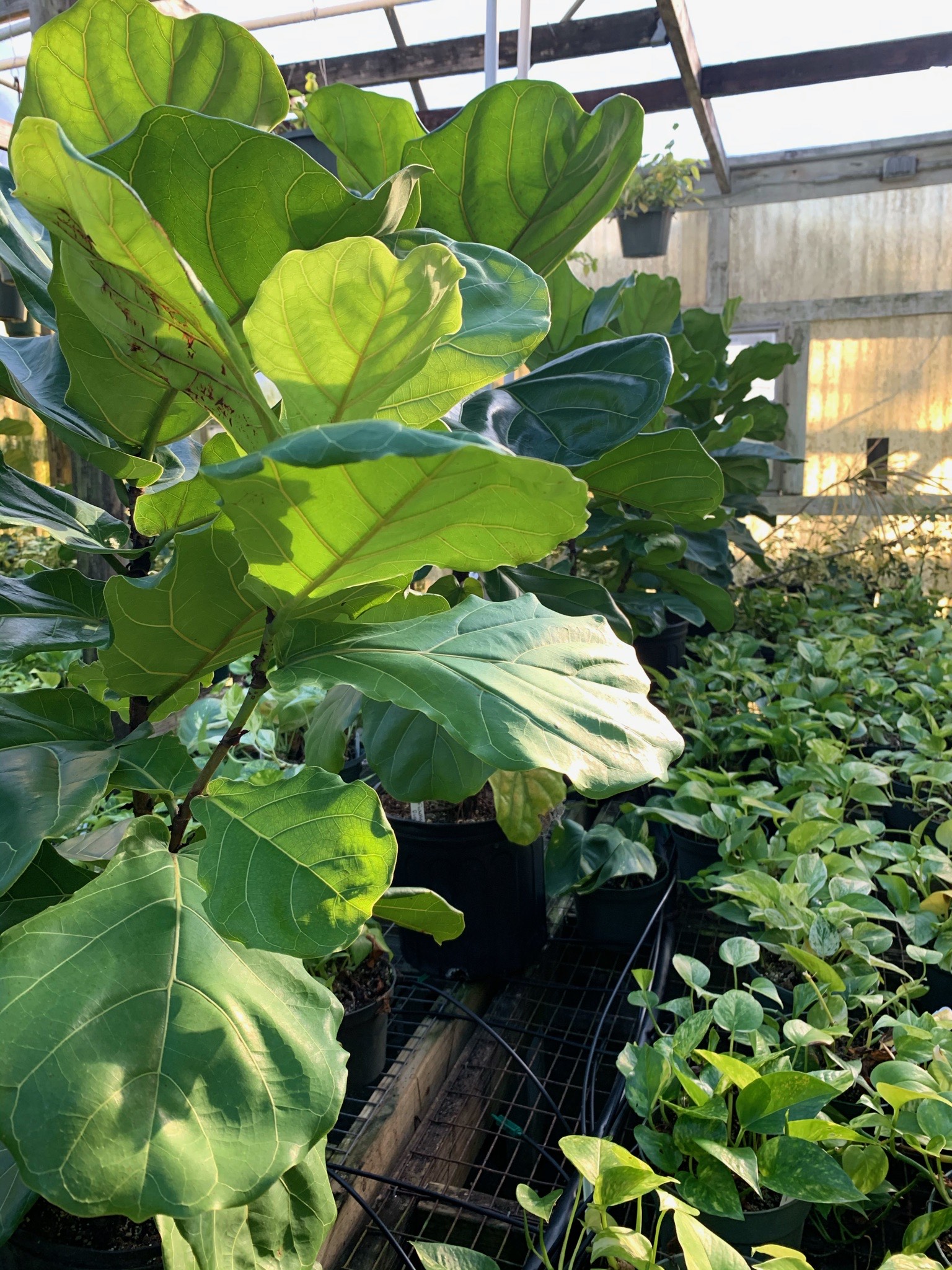 Create At Jimbo's
Jimbo's Nursery offers classes and hands-on workshops for both children and adults throughout the year. Learn about intriguing horticulture topics that will provide you with useful information no matter what your level of gardening experience. Perfect for gardening groups, kids' birthday parties or a girls' night out – pick a workshop or class and grow!
---
Upcoming Events
---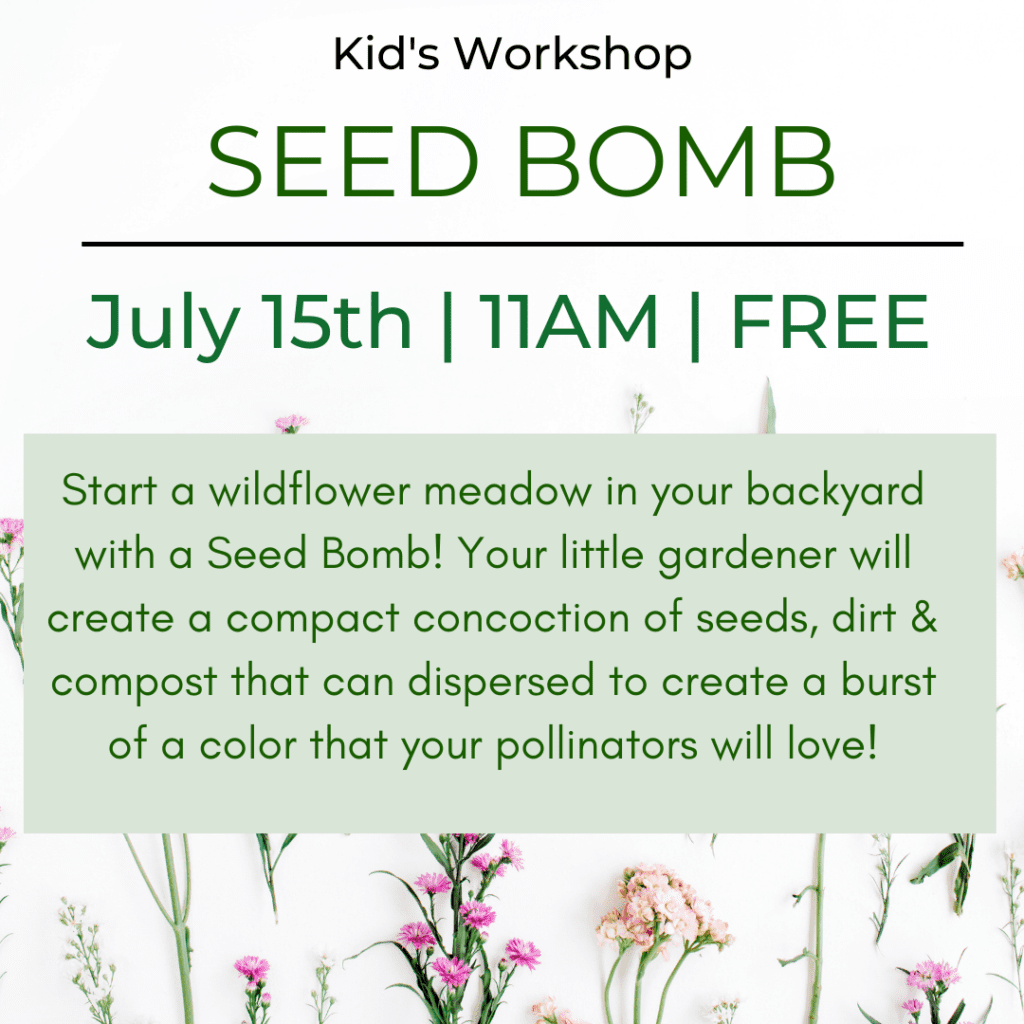 July 15th
Start a wildflower meadow in your backyard with a Seed Bomb! Your little gardener will create a compact concoction of seeds, dirt & compost that can be dispersed to create a burst of a color that your pollinators will love!
---
Texas Gardening Series: How To: Attract Night Pollinators
July 16th
Join our nursery perennial expert Tiffany, as she guides us through how to create a Moon Garden that will attract night pollinators! Our gardens are active day & night with wildlife & this class will take a deeper dive into the types of pollinators that visit your garden at night & how to keep them happy!
---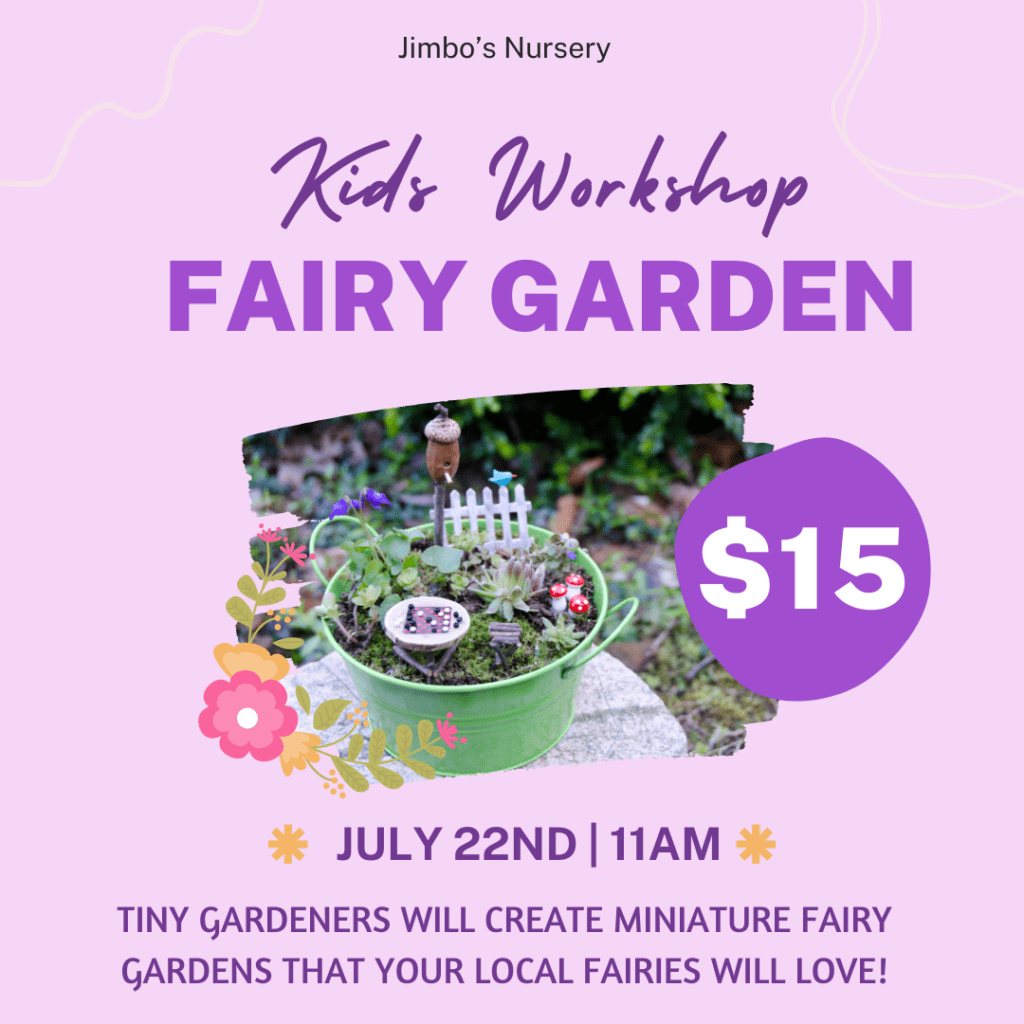 July 22nd
Calling all fairy lovers! In this workshop our tiny gardeners will create miniature fairy gardens that your local fairies will love!
---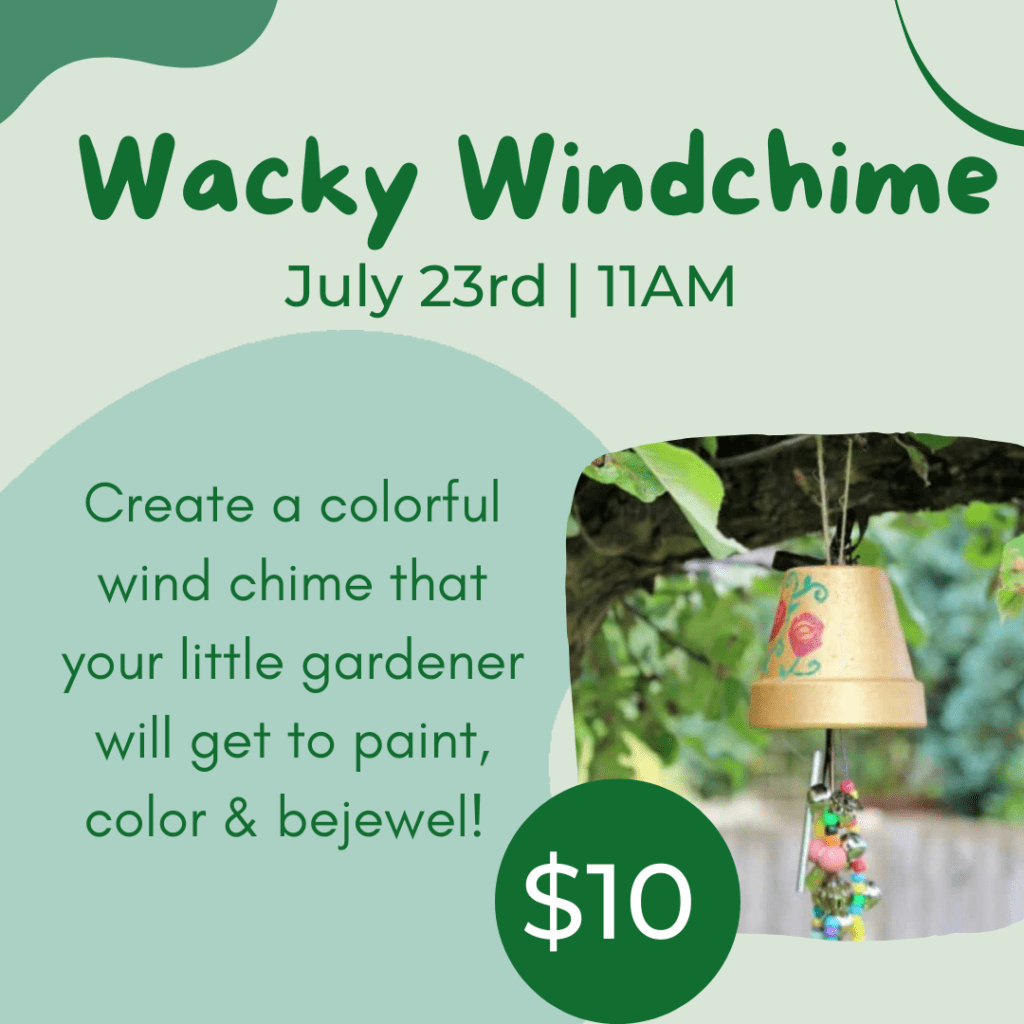 ---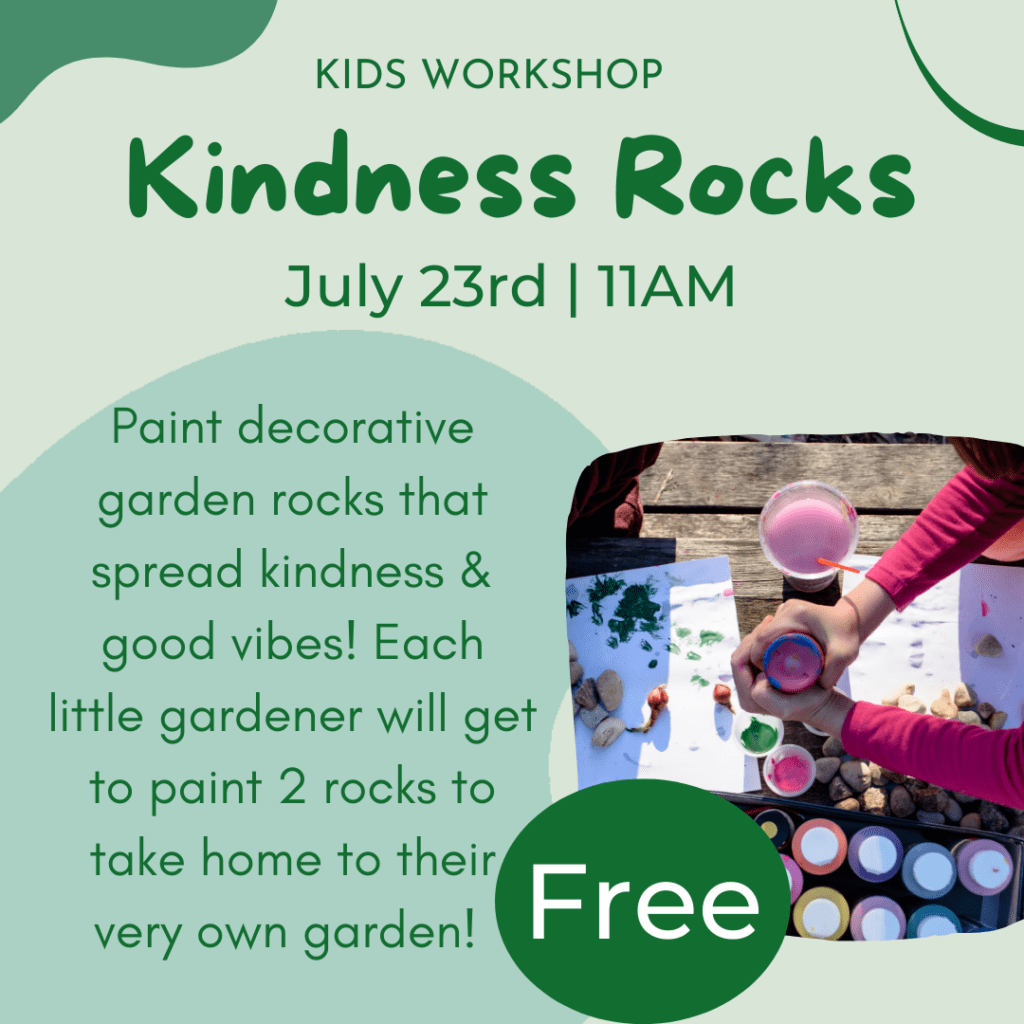 Kids Workshop | Kindness Rocks
July 29th
Paint decorative garden rocks that spread kindness & good vibes! Each little gardener will get to paint 2 rocks to take home to their very own garden!
---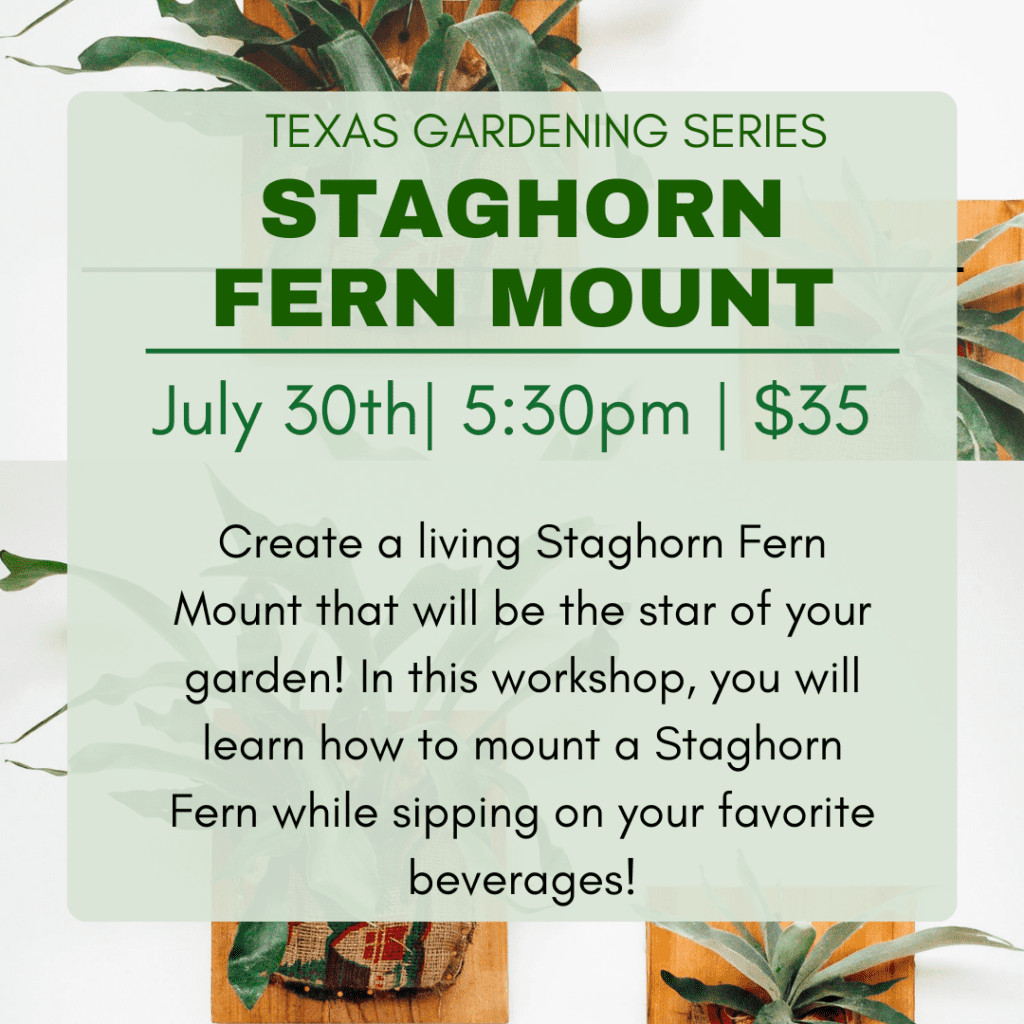 Sip N Plant | Staghorn Fern Mount
July 30th
Create a living Staghorn Fern Mount that will be the star of your garden! In this workshop, you will learn how to mount a Staghorn Fern while sipping on your favorite beverages!
---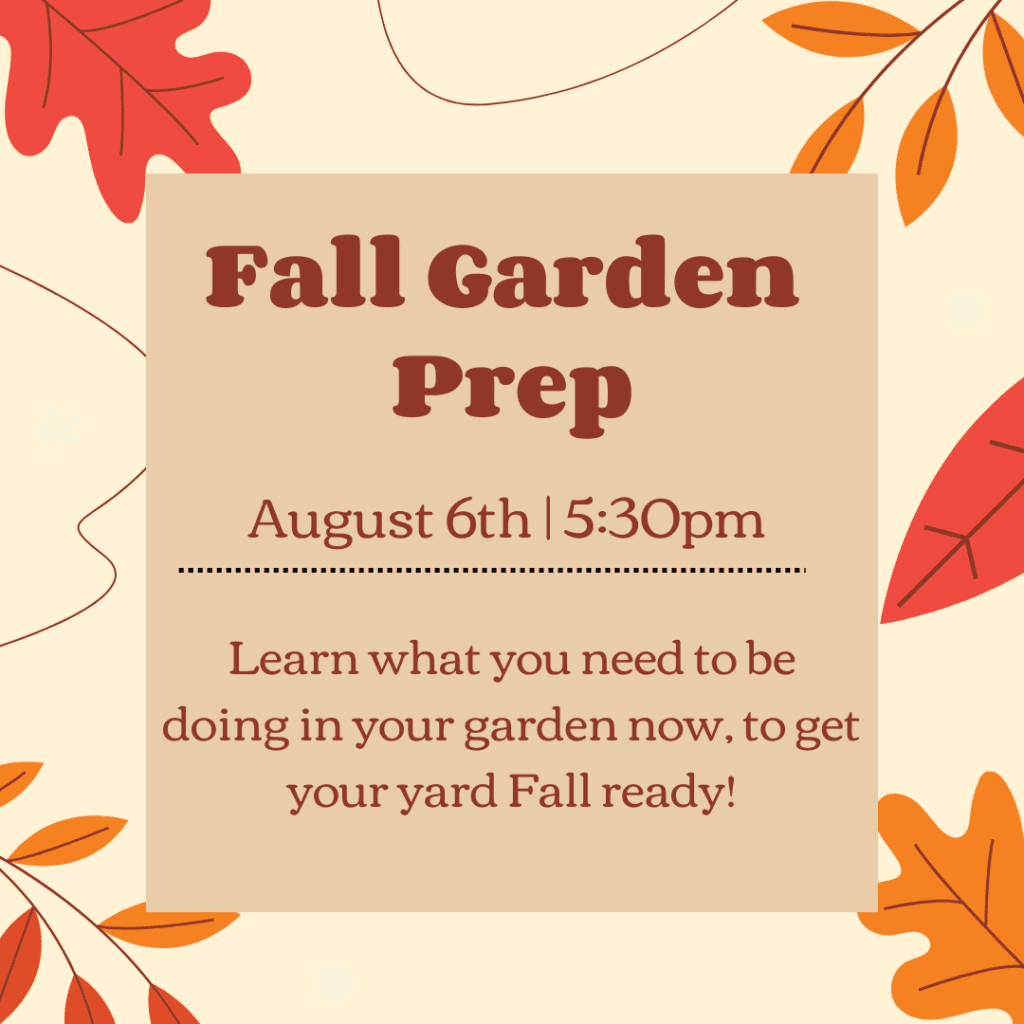 ---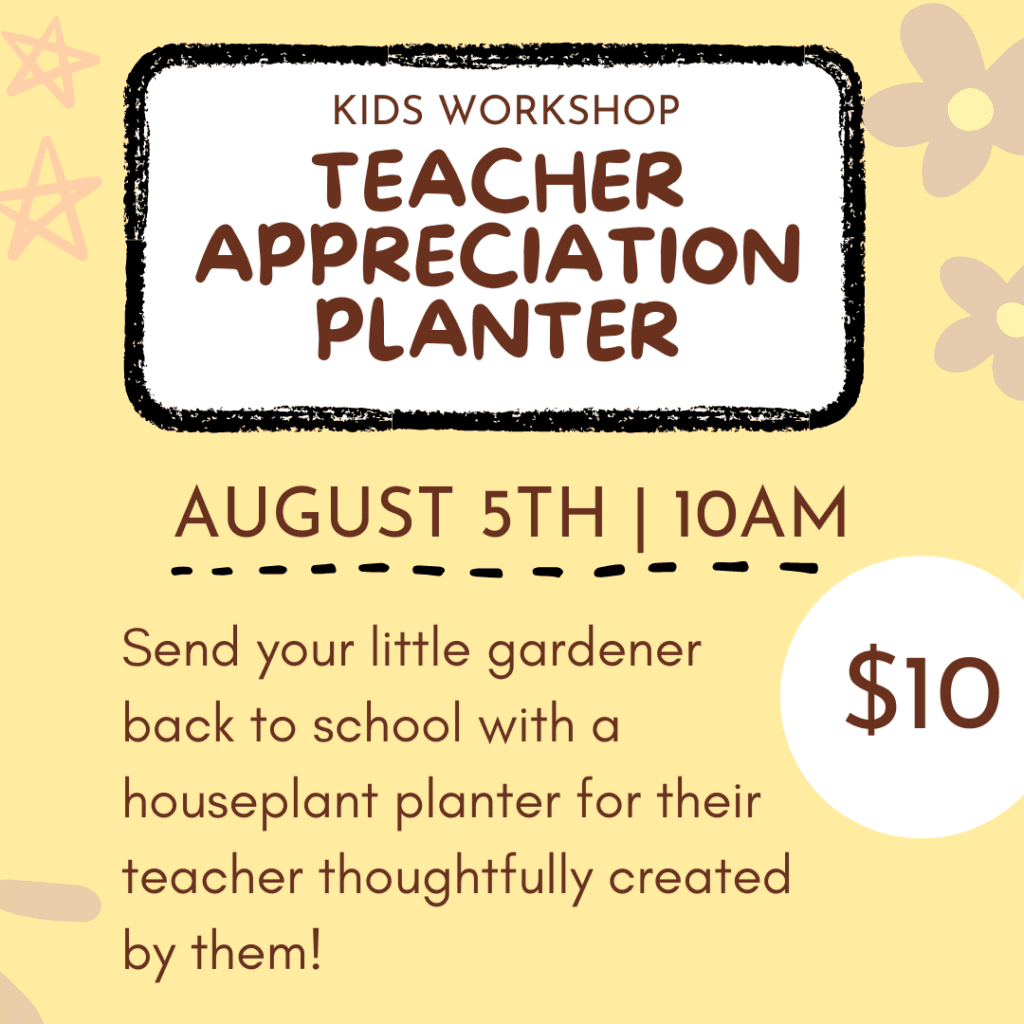 ---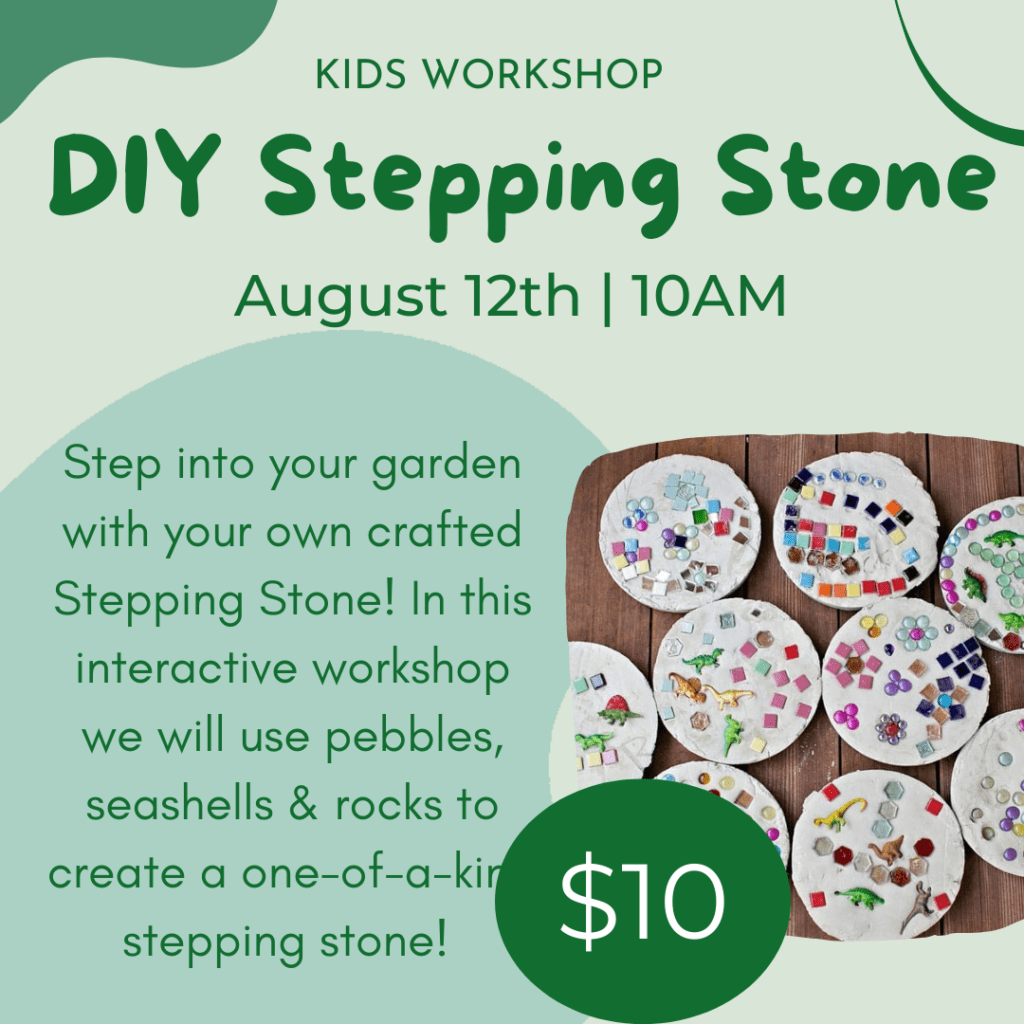 Kids Workshop | DIY Stepping Stone
August 12th
Step into your garden with your own crafted Stepping Stone! In this interactive workshop we will use pebbles, seashells & rocks to create a one-of-a-kind stepping stone!
---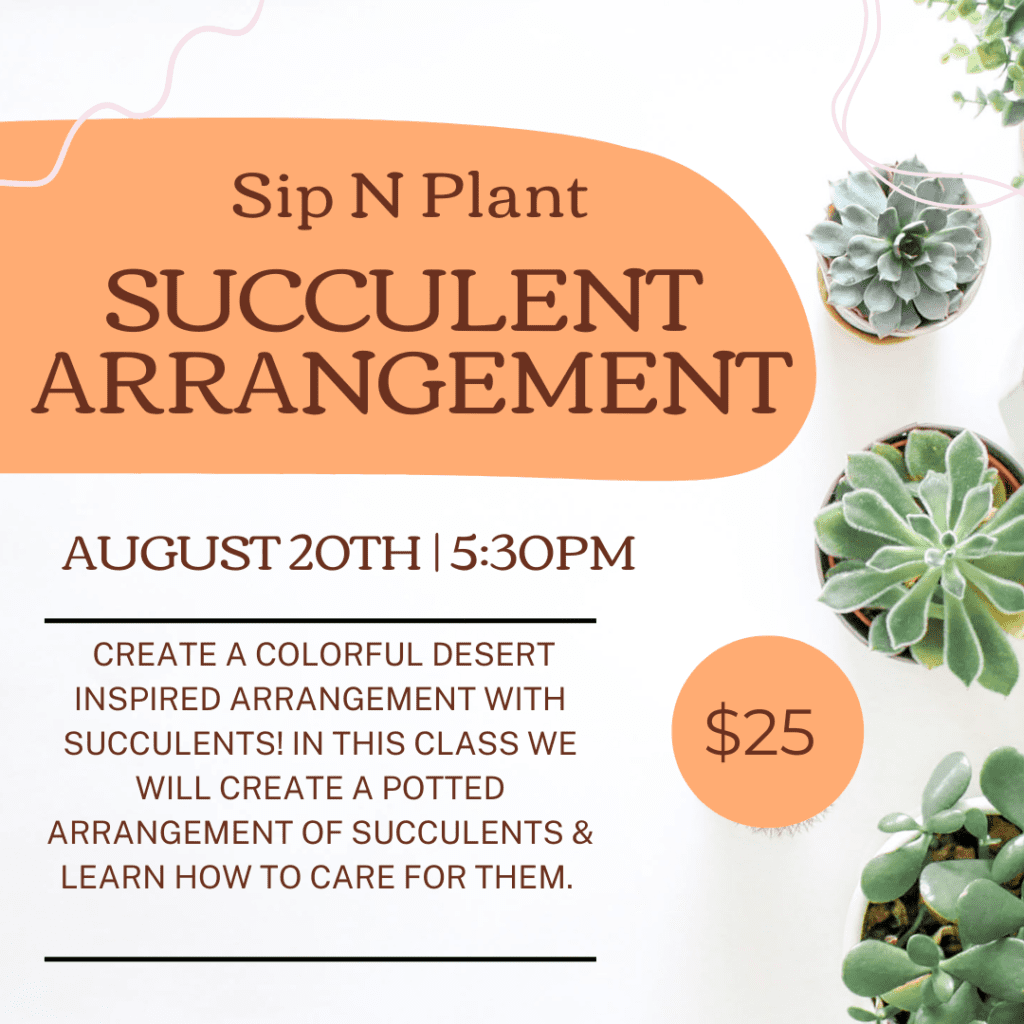 Sip N Plant | Succulent Arrangement
August 20th
Create a colorful desert inspired arrangement with succulents! Succulents are very low maintenance & can go weeks without water! In this class we will create a potted arrangement of succulents & learn how to care for them.
---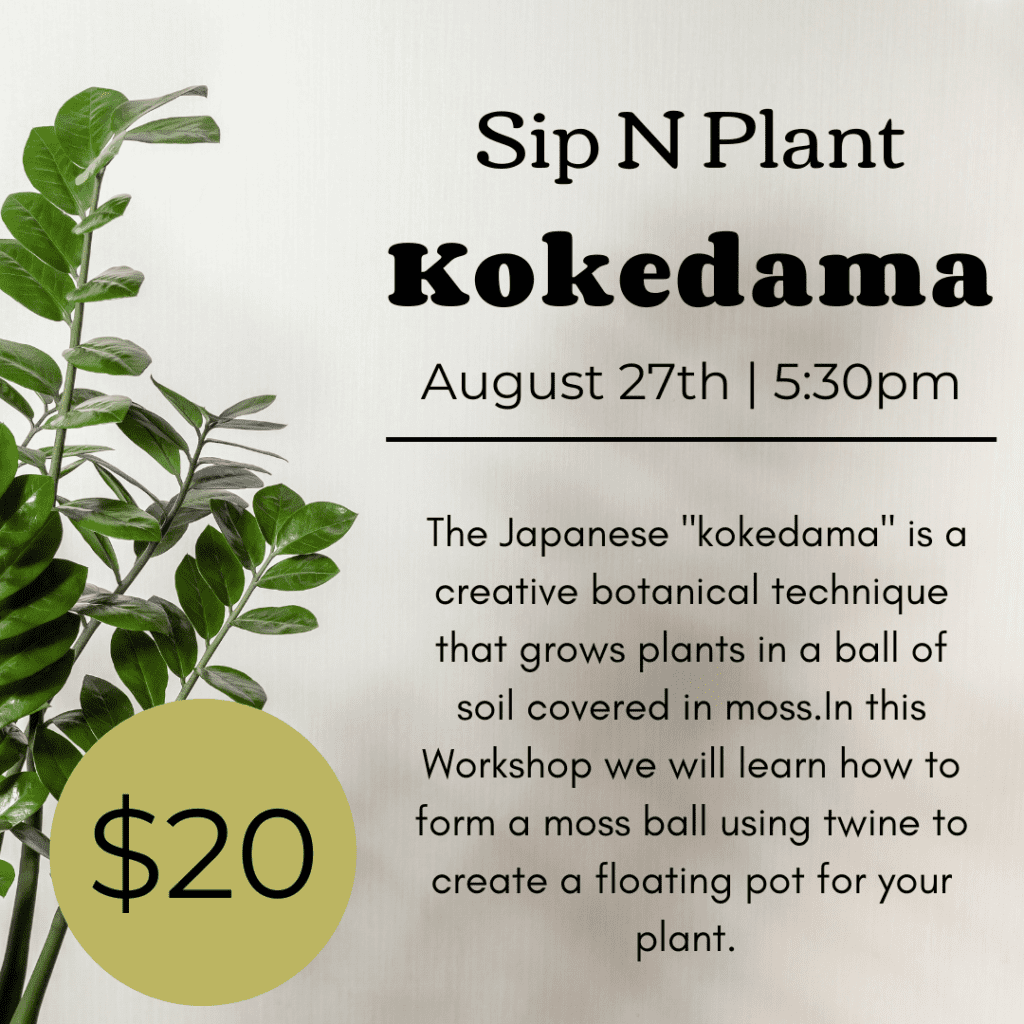 August 27th
The Japanese "kokedama" is a creative botanical technique that grows plants in a ball of soil covered in moss. In this Workshop we will learn how to form a moss ball using twine to create a floating pot for your plant. They are easy to care for & make fabulous hanging additions to your window. This is a messier workshop & attendees will need to wear gloves.
---
Private Workshops
Grow with a group! In our Private Workshops you get to choose your workshop & preferred date. Great for work events, birthday parties or a group of friends!
**Minimum 5 people per group**
Reservations subject to availability
In order to meet workshop inventory needs, workshops must be booked one week in advance
For workshop/class availability and costs inquiries email jimbosnursery75@cwoolsey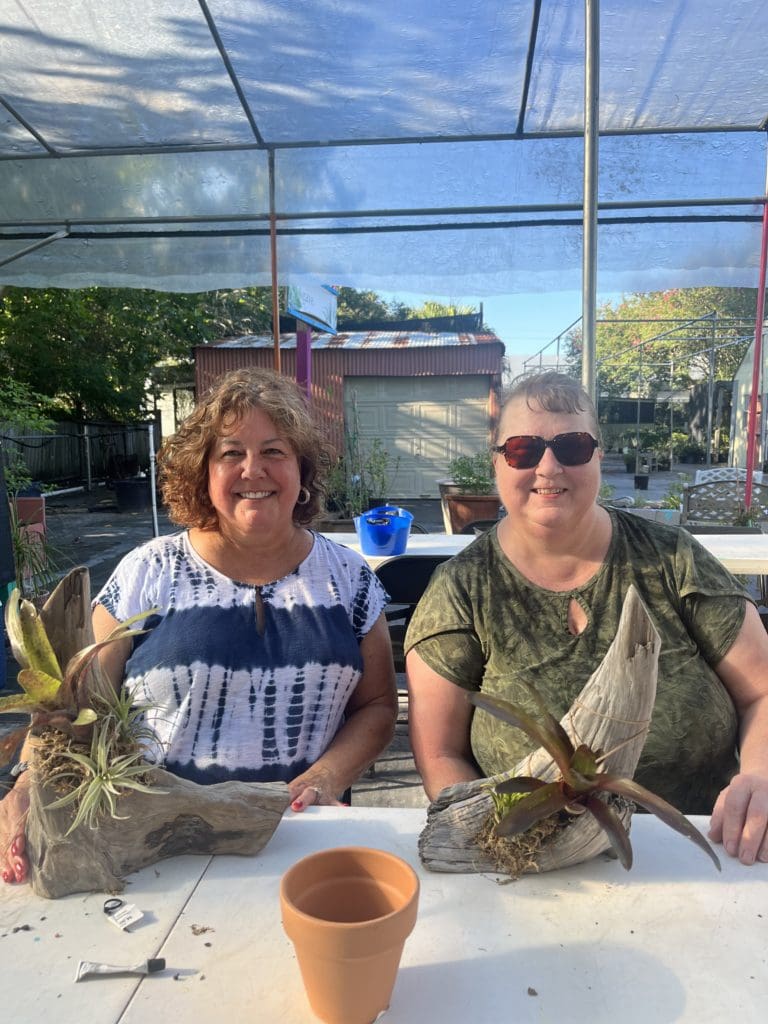 Private Bromeliad Mount Workshop
Learn about bromeliads & air plants while creating a tropical masterpiece. Great as a centerpiece or as a gift, bromeliad mounts are showstoppers that add a different vibe to your garden.
$25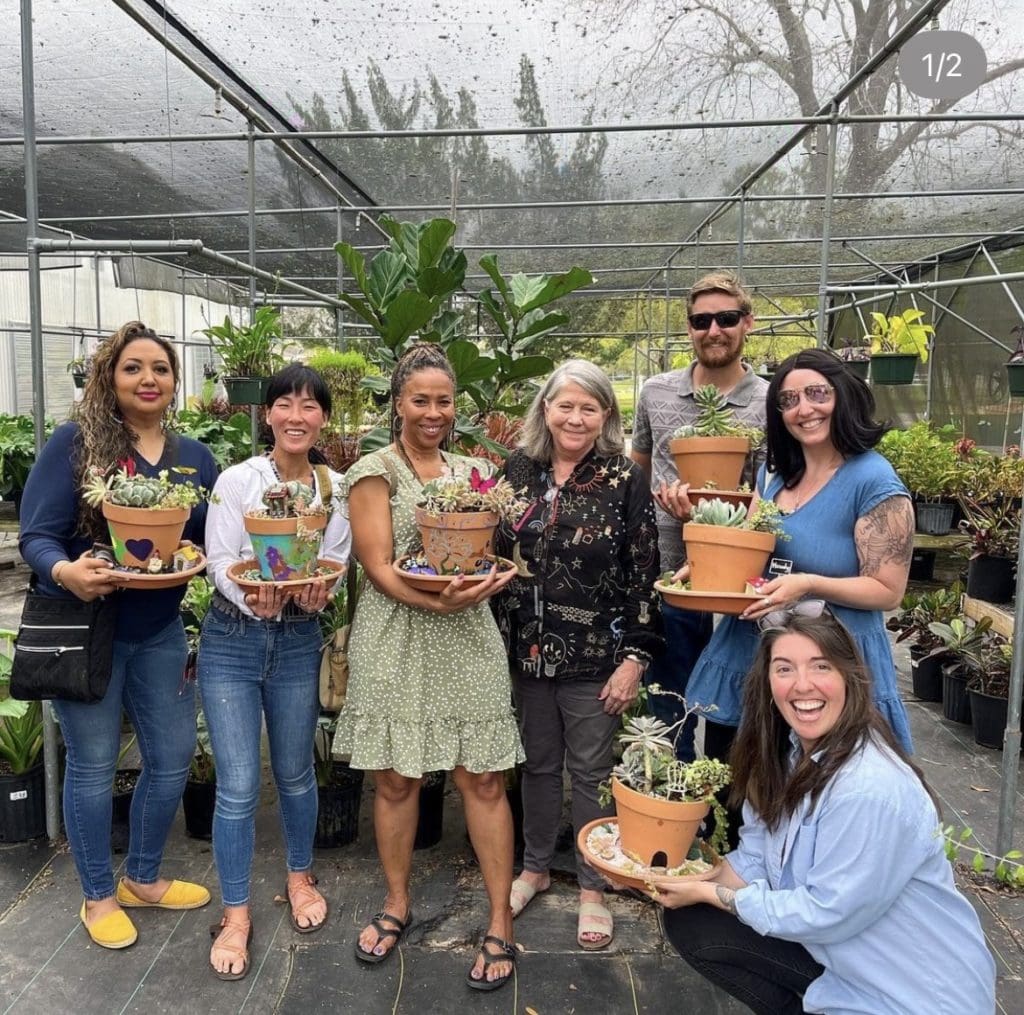 Private Succulent Container Workshop
Flex your green thumb & create a beautiful succulent arrangement in our hands on class. We will teach you how to care for & propagate your succulent creation!
$20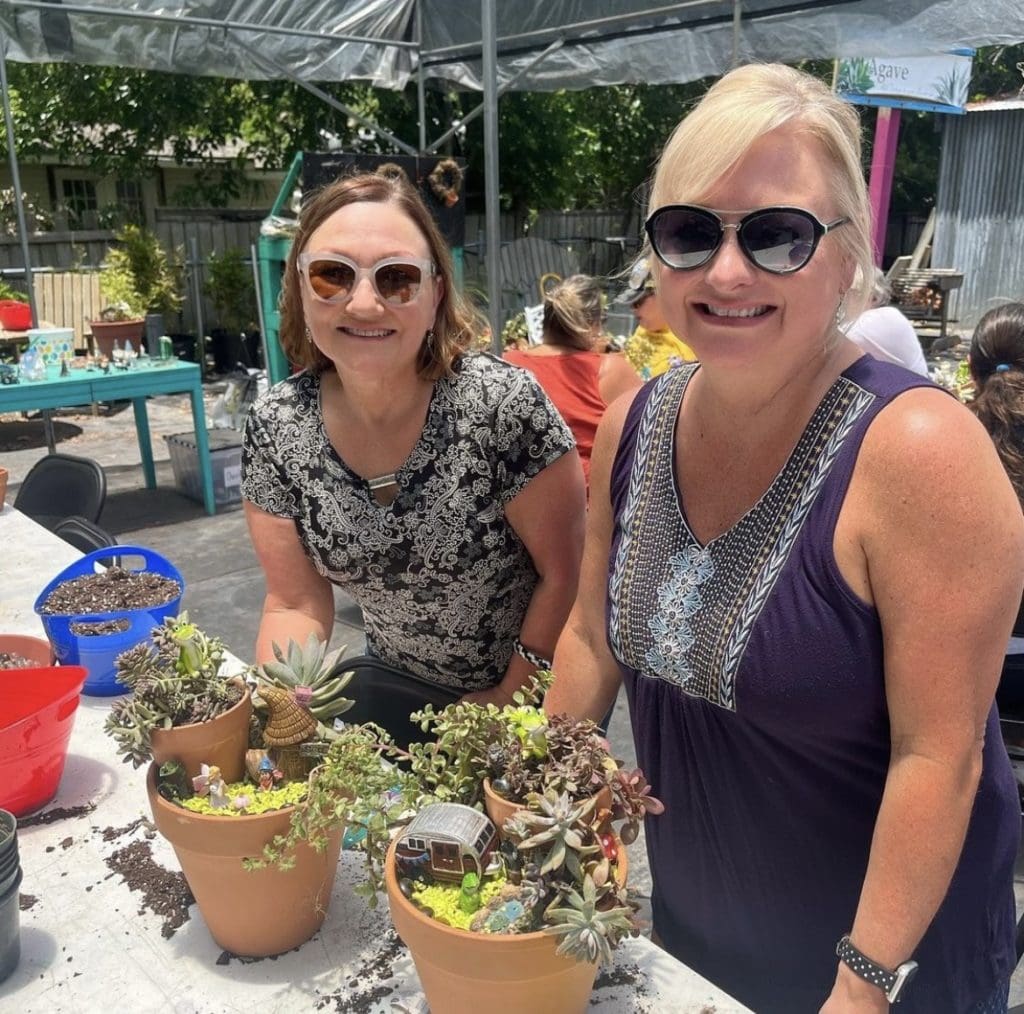 Private Fairy Garden Workshop
Connect with your inner child & create a magical fairy garden that will bring your imagination to life! Perfect for kids or adults of all ages
$25